8 Under-the-Radar Underclassmen Skyrocketing Up 2023 NFL Draft Boards | News, Scores, Highlights, Stats, and Rumors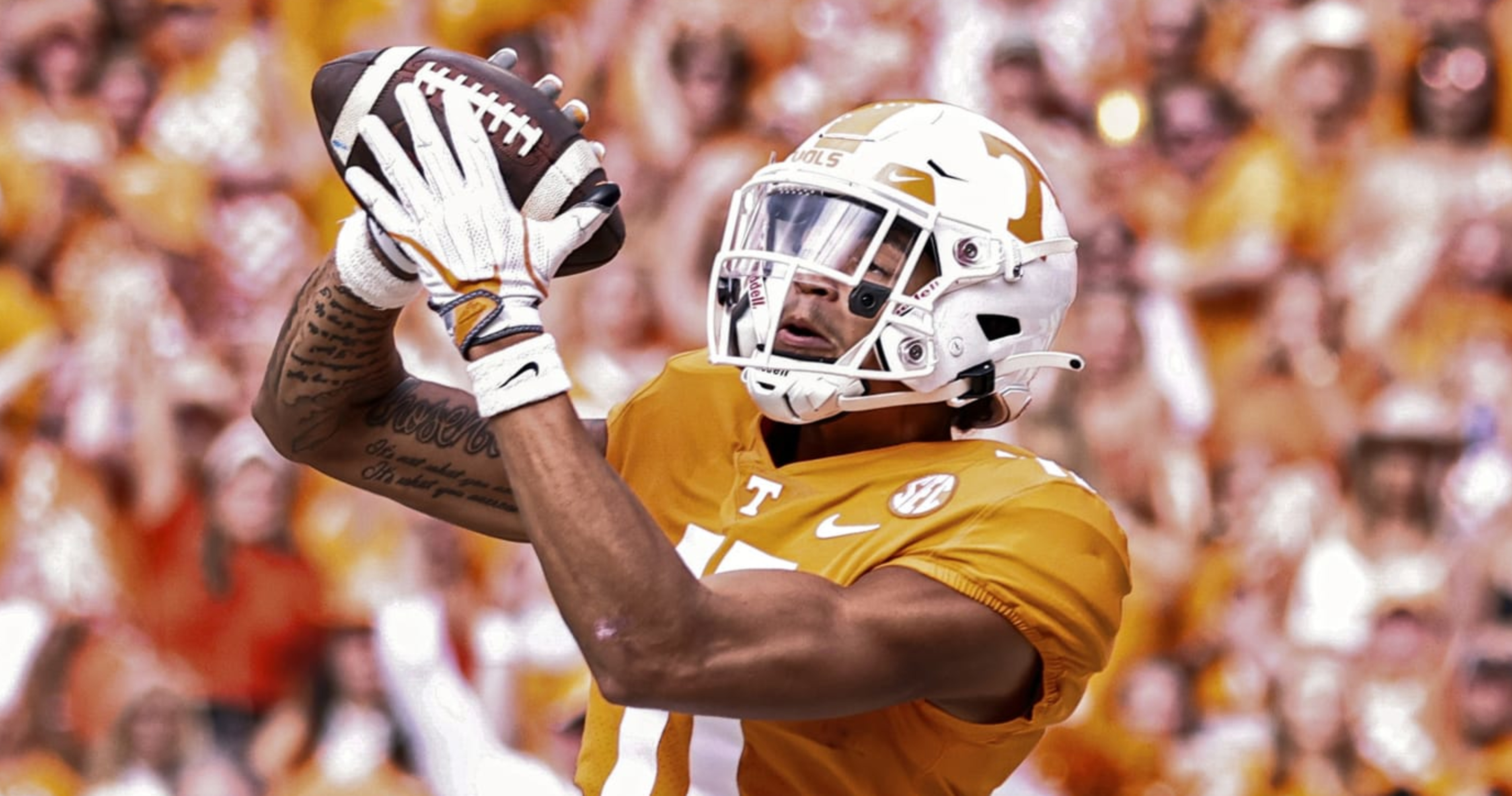 8 Under-the-Radar Underclassmen Skyrocketing Up 2023 NFL Draft Boards
0 of 8
AP Photo/Wade Payne

Typically, senior NFL draft prospects are the top priority entering the season because scouts must wade through hundreds of possibilities. At the same time, well-known underclassmen are often discussed long before they declare.

This year, the top four of Ohio State's C.J. Stroud, Georgia's Jalen Carter and Alabama's Bryce Young and Will Anderson Jr. were believed to be elite prospects entering the process. Their performances have confirmed as much.

Furthermore, other draft-eligible prospects have made their names known as potential top options. Clemson's Myles Murphy, Texas' Bijan Robinson, Notre Dame's Michael Mayer, Penn State's Joey Porter Jr., Clemson's Bryan Bresee, USC's Jordan Addison, Penn State's Olumuyiwa Fashanu, TCU's Quentin Johnston, LSU's BJ Ojulari and Northwestern's Peter Skoronski are already counted among the Bleacher Report Scouting Department's top 16 prospects.

Others don't appear until later in the process based on their performances throughout the season, and their stocks will subsequently skyrocket. Expectations were exceeded, and evaluators must adjust.

Eight underclassmen are forcing scouts to take a good look at where they stand because they're showing out on a weekly basis. Some might even land in the first-round conversation.
QB Cameron Ward, Washington State
1 of 8
AP Photo/Young Kwak

Washington State's Cameron Ward should be considered the wild card of next year's quarterback class.

C.J. Stroud and Bryce Young are clearly the top two prospects. The duo could even be selected No. 1 and 2 overall.

From there, the position class is far murkier.

Kentucky's Will Levis and Florida's Anthony Richardson are earmarked as strong first-round possibilities because of their physical traits. Beyond them, anyone can show they're worthy of early-draft consideration.

As the Bleacher Report Scouting Department's Derrik Klassen stated, "Ward is a redshirt sophomore and has no need to declare early, but he's kind of like Kyler Murray lite, and that will be a fun gamble to take."

The comparison is based upon Ward's being a natural thrower and athlete capable of creating dynamic plays even when everything breaks down around him.

The Incarnate Word transfer has 2,579 passing yards with a 20-to-8 touchdown-to-interception ratio. His eight rushing yards don't show his escapability from the pocket. Ward is also capable of flicking the ball from multiple arm angles.

The 6'2″, 220-pounder requires further development with his mechanics to help with his consistency. At the same time, his skill set is obvious and intriguing in a game more reliant than ever on signal-callers who are capable of working outside of structure.
RB DeWayne McBride, UAB
2 of 8
Wesley Hitt/Getty Images

If someone asked which running back averaged the most yards per game this season, plenty of wrong answers would almost certainly follow.

Bijan Robinson may be the best running back prospect since Saquon Barkley, but he's not the correct response. Illinois' Chase Brown leads the nation is rushing yards, yet he ranks second in this conversation. Michigan's Blake Corum, UCLA's Zach Charbonnet and Minnesota's Mohamed Ibrahim are all good guesses.

But UAB's DeWayne McBride is the answer. His 156 yards per game are the most among qualified backs over the last three seasons. McBride is also the only back with 200 or more totes to average 6.0 yards per carry in the FBS.

The 5'11", 215-pound junior has a strong lower body to rip through would-be tackers and enough burst to pick up chunk plays. In fact, McBride leads the FBS with 17 runs of 20 or more yards, according to the Blazers.

"He runs with a purpose and a passion, a selfless purpose and passion," UAB interim head coach Bryant Vincent said, per Evan Dudley of AL.com. "He's not about himself, he's not about his awards, and he's not about how many touchdowns he gets; he's about winning and playing for his teammates. That's hard to find nowadays."

McBride resides in the sweet spot for a running back prospect. He's only 21 years old and doesn't have significant wear and tear on his body, yet he has the productivity, explosiveness and size to be a lead back at the next level.
WR Jalin Hyatt, Tennessee
3 of 8
AP Photo/Wade Payne

The Tennessee Volunteers entered this season with a top-notch wide receiver prospect, but the designation moved to another player during the campaign.

Cedric Tillman captured the attention of evaluators last season. The 6'3″, 215-pounder posted 787 receiving yards during the final six games, including 352 yards against Alabama and Georgia. But Tillman underwent surgery on his left ankle and missed four games after the mid-September procedure.

In his stead, Jalin Hyatt emerged.

The junior exploded onto the scene with a 207-yard, five-touchdown performance against Alabama. During the Volunteers' last eight games, Hyatt has posted five games of 138 or more receiving yards. Hyatt ranks as the nation's second-leading receiver with 1,116 yards, and his 15 touchdown grabs lead the nation.

Some grumblings will surface about Tennessee's Baylor-inspired passing attack because its wide receivers benefit from non-traditional alignments and don't run full route trees.

At the same time, Hyatt's quickness to win off the snap and game-changing vertical speed are difficult to deny, particularly in a world wherein NFL offenses are constantly trying to create big plays.

Another concern involves Hyatt's slight frame. Tennessee lists him at 6'0″ and 185 pounds. His explosive qualities are undeniable, but how effective he will be lies on a wide spectrum from Corey Coleman to Jaylen Waddle.
LT Broderick Jones, Georgia
4 of 8
Icon Sportswire

Georgia, which has developed into the nation's preeminent program, has an interesting recent history with its left tackle prospects.

Isaiah Wynn and Jamaree Salyer were often viewed as guards, though both have started games at left tackle in the NFL. Andrew Thomas fell between those two during their time with the Bulldogs before he became the No. 4 pick in 2020, but he struggled at the onset of his career before developing into one of the game's best left tackles.

The squad's current blindside protector, Broderick Jones, may fall a little closer to the initial two than Thomas. Much like Wynn and Salyer, the redshirt sophomore doesn't have the size and length teams often prefer at the position. Georgia lists Jones at 6'4″ and 310 pounds, but his movement skills are superior.

Jones is superb in space, and defenders don't stand a chance when he identifies them in the open field. He's also a smooth operator in his pass set. He has yet to allow a sack or quarterback hit this season, according to Pro Football Focus' Michael Renner.

Next year's offensive tackle class doesn't quite stack up to this year's, as Evan Neal and Ikem Ekwonu heard their names called among the top seven selections. Olumuyiwa Fashanu has the tools to be in the top-10 conversation, and Peter Skoronski is a polished technician but lacks length.

The competition for OT3 should come down to Jones and Ohio State's Paris Johnson Jr. and Dawand Jones.
DL Tuli Tuipulotu, USC
5 of 8
AP Photo/John McCoy

The nation's sack leader resides in Southern California. Los Angeles to be specific.

Tuli Tuipulotu's 11.5 sacks are the most by a Trojan in the last 10 seasons, and he still has at least two games to play. The defensive lineman also ranks third overall with 17.5 tackles for loss.

He brings an intriguing combination of power and versatility. Tuipulotu is a 6'4″, 290-pound junior capable of working off the edge or over interior linemen. Wherever a potential mismatch exists, he should be there.

"[What makes him great is] just the ability to do it from a physical standpoint and a speed standpoint. He's one of those guys that just has that mentality on every single snap he's going to get home, and it's noticeable," defensive coordinator Alex Grinch told reporters. "Just because you expect him to have it, you still want to appreciate what the guy does for you. He just works his tail off. Again, hasn't missed a practice, hasn't missed a rep, doesn't want to come out of the game. Just goes about his business, and he's an elite dude."

Tuipulotu's skill set differs from other edge defenders in the class. His burst off the snap and bend aren't on the same level as others who may be 30-40 pounds lighter. At the same time, he can use his blend of power and athleticism in different ways.

The 2022 Bronko Nagurski Trophy finalist's projected usage will be important in his evaluation. Some squads might view him as a 3-tech, while others could have him as a base end.

As running games become more physical than they have been in years, front offices will look toward options with Tuipulotu's build as alternatives to the smaller, quicker and more pliable defenders who tend to be high draft picks.
Edge Lukas Van Ness, Iowa
6 of 8
Steven Branscombe/Getty Images

Size, power and destructive capabilities define Iowa defensive end Lukas Van Ness as a prospect.

The 6'5″, 275-pound redshirt sophomore is nicknamed "Hercules," and his feats of strength are impressive. Highlights of Van Ness show him overwhelming two of the nation's top offensive tackles in Peter Skoronski and Paris Johnson Jr.

"He's got long arms," defensive line coach Kelvin Bell told The Athletic's Scott Dochterman in August. "He's got a little bit more time on the outside to uncoil, and I think you'll get to see a little bit more of his athletic ability. But I think that year that he's spent on the inside really helped him learn what the offense is trying to do to him, and it's really carrying over to the outside. But he gives us an element of length on the outside and a little bit more athleticism on the outside, which is always welcome."

As a redshirt freshman, Van Ness was a rotational interior defender because the Hawkeyes lacked depth up front. Now, he's back at end and more at home.

Van Ness excels at 4i (inside shoulder of an offensive tackle) or out wide mainly because of his play strength, though he'll need to develop an expanded repertoire of pass-rush moves as his career progresses despite posting 13 sacks in his first two seasons.

Van Ness' bull rush is deadly, but NFL blockers are able to anchor much better than the linemen he faces now. Even so, it's far easier to develop a secondary or even tertiary move than it is to improve upon functional playing strength. And Van Ness has that in spades.
CB Devon Witherspoon, Illinois
7 of 8
AP Photo/Doug McSchooler

Corners have a tendency to rise throughout the draft process because of positional value. Top cover corners often reach elite status before the big event in late April.

Sauce Gardner and Jaycee Horn are two recent examples of prospects whose values increased in their final seasons on campus. Conversely, Derek Stingley Jr. and Pat Surtain II were held in high regard throughout their collegiate careers, at least to the point where they were continually projected as top-10 talents.

Next year's class could feature Joey Porter Jr. as CB1 because of his physicality and bloodline. But the best cover corner plays for Illinois.

Devon Witherspoon is the nation's highest graded corner, according to Pro Football Focus' Max Chadwick. The 6'0″, 180-pound junior is not just sticky in coverage; he's also a ball hawk with 13 passes defended. He's going to get his hand on the ball when it comes his way.

Impressive coverage stats are only one aspect of Witherspoon's performance. He has the mentality to play the position, as he wants to lock down each opposing No. 1 wide receiver and can travel with his assignment. In man coverage this season, Witherspoon has allowed only seven catches—and zero touchdowns—per PFF. Quarterbacks have posted a 27.3 passer rating when targeting receivers covered by the Illini defensive back.

The competitive spirit with which Witherspoon plays helps cover up his slight frame—he'll come off the edge to tackle—and he can clean up his footwork to be even more effective. A draft class can't have too many good corners, and Witherspoon is more than capable of joining the top tier.
CB Clark Phillips III, Utah
8 of 8
AP Photo/Rick Bowmer

Utah cornerback Clark Phillips III let his intentions be known when he participated in senior night Saturday. While he's just a redshirt sophomore, the Utes honored all players who will leave the team after this season—which means Phillips plans to declare for the draft. He should after a stellar campaign.

Phillips joined the program as a heralded recruit, and he has delivered. He's started every game since he's been on campus, and last season the second-team All-Pac-12 performer led the conference with 15 passes defended.

His level of play has improved during his third campaign. He's tied for second in the nation with five interceptions and recorded three against Oregon State. In fact, his four career pick-sixes are tied for the most in program history, per ESPN 700's Porter Larsen. In single coverage, he has graded better than any other Power Five cornerback, according to Pro Football Focus.

"He's got exceptional quickness and speed, first of all. Not the biggest guy, but he's built well and he's physical when he needs to be," Utah head coach Kyle Whittingham said, per the Deseret News' Jeff Call. "Speed and quickness are his big thing, along with film study. Nobody studies more film than Clark. That leads to big plays. The more film you study, the more big plays you're going to make."

Size, or lack thereof, is the only thing holding Phillips back. But he's not going to grow any more. Evaluators must accept he's an exceptional 5'10", 183-pounder who will find his way onto the field as an outside or nickel corner and likely be around the ball at all times.