2023 WWE Rankings: Who Will Be the Top 10 Stars in 1 Year? | News, Scores, Highlights, Stats, and Rumors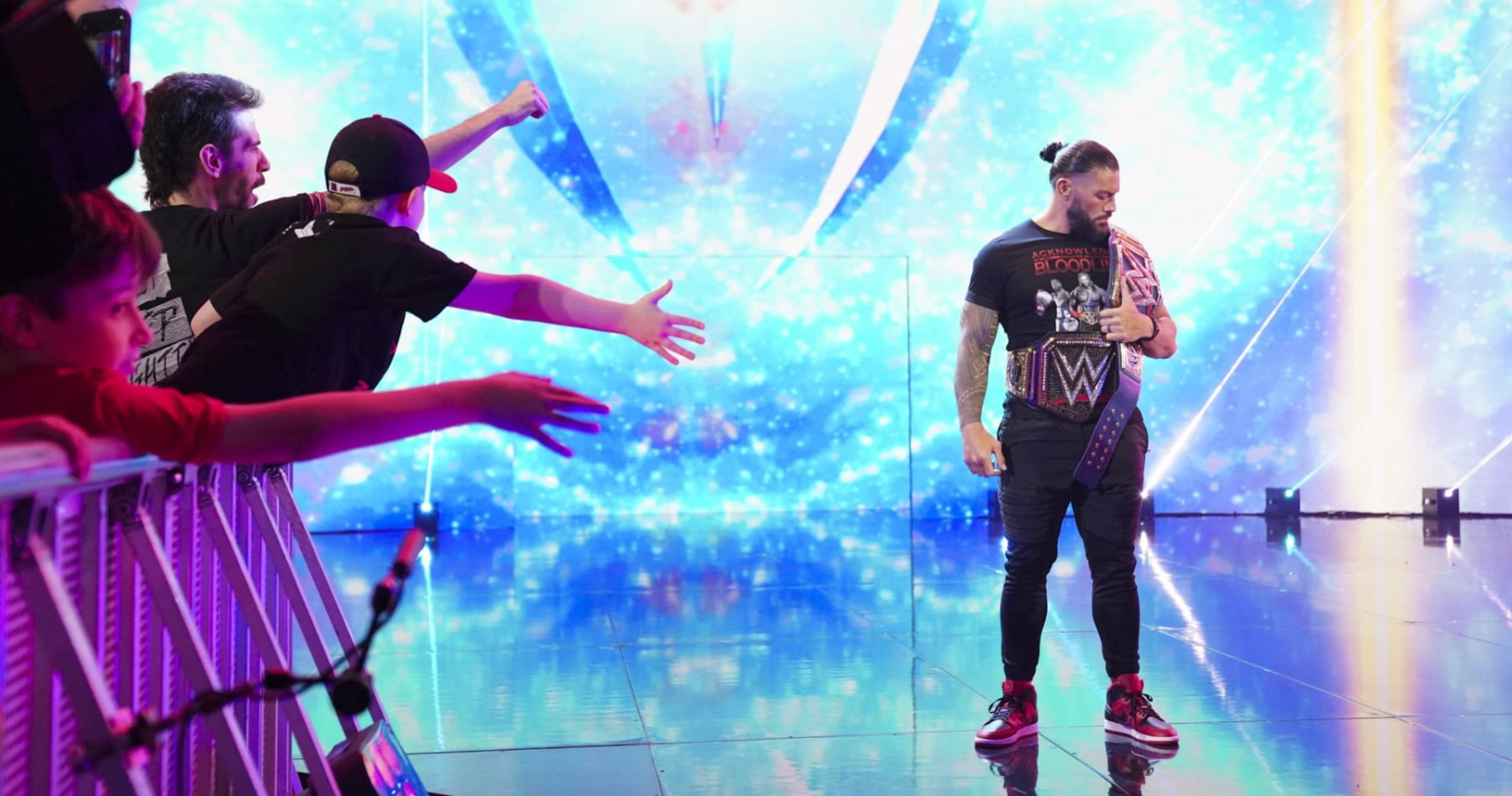 0 of 10
Could Roman Reigns' time as The Head of the Table be coming to an end?/Credit: WWE.com

The appointment of Triple H to lead WWE Creative has brought excitement and intrigue surrounding the company's product that has not existed in years.

It also brings questions about what the product will look like and where Superstars will find themselves over the next 12 months.

Who will be prominent fixtures on WWE television, how will they be used and who might unseat Roman Reigns as the undisputed face of the promotion?

As it turns out, the creative may change for the better and the product will improve as a result, but the top names in the company appear set to remain mostly unchanged.
1 of 10
Enter The Prizefighter.

Kevin Owens has rediscovered his edge and is being presented like the star he is under the new regime.

A masterful talker and in-ring performer with a track record that speaks for itself, the previous creative forces in the company followed up his WrestleMania 38 main event against "Stone Cold" Steve Austin with a feud against…Ezekiel.

Triple H wasted little time righting that wrong, executing a shift in tone for KO that returns him to the force he had been in NXT and early on in his main roster run.

The Canadian now looks like a dangerous threat to win any championship he sets his sights on and did not hesitate to step to Drew McIntyre, engaging the No. 1 contender in a stellar promo on the August 15 episode of Raw followed by a great match against the Scot.

At his best, Owens is a genuine main eventer who connects with audiences and can sell the life out of a pay-per-view headliner with a single promo. Take that and more realistic creative efforts of Triple H, and you have a guy poised to make a big leap in WWE over the next year.

Owens may well now have the best year of his career as a competitor on the company's main roster. So much so that this No. 10 spot may be insulting when we look back on these rankings in 12 months' time.
2 of 10
Bianca Belair has been a top babyface in wrestling since defeating Sasha Banks at WrestleMania 37 in 2021 and added to her popularity with two premium live event wins over Becky Lynch. Her star is burning as brightly as it ever has and that is unlikely to stop anytime soon.

The current Raw Women's Champion, embroiled in a rivalry with Bayley, Dakota Kai and Iyo Sky, she is likely to be the centerpiece of the women's division for the time being. That she is over, performs up to the moment and is only getting better certainly helps make the case for her continued success well into 2023.

She will likely take a slight step back at some point with the return of Becky Lynch (more on her in a bit), but The EST is a genuine star who has proven herself time and time again. That she got her start in NXT, under Triple H, only strengthens the argument.

She may not be champion, she may not have another classic WrestleMania match lined up for 2023, but she will remain a focal point in the company and one of those key figures the creative team will have something of substance lined up for.
3 of 10
Charlotte Flair is one star who thrived under the previous regime and will continue to do so now that Triple H and his creative team have taken over.

The daughter of The Game's favorite wrestler and mentor, she rose to prominence in NXT, where Triple H made sure to highlight her as one of that brand's biggest stars. She became a trailblazer and, arguably, the highest profile women's wrestler in the company's long history.

She helped revolutionize women's wrestling in the industry's top promotion and has competed in some of the best matches of the last 10 years. One such match was a physical battle with Ronda Rousey at WrestleMania Backlash that saw her submit and lose her SmackDown Women's Championship.

While it is certainly possible that Flair returns, defeats Liv Morgan and collects title No. 14, do not be surprised if she finds herself opposite Rowdy once more when she comes back to the blue brand.

Even if she does not feud with Rousey and fails to regain the title, Flair will be positioned at the forefront of top feuds and in matches that have incredible heat, thanks to the equity she has built with fans through her character and in-ring work.

Also, the incredible amount of time and energy that the company put into building her star.

She is definitely a top 10 star of 2023 and, like Owens, may far outrank her position on this countdown when all is said and done.
4 of 10
Seth Rollins has proven to be so over as a performer, both on the mic and in the ring, that he has been able to compete in midcard programs and random matches every Monday night and not be hurt by it.

Much of that can be attributed to his connection with the audience, forged over years of great matches and multiple main event pushes, but some should be credited to his commitment to his character.

Under a new creative regime, headed by a guy who both warned Rollins about his stubbornness early in his developmental run and then worked alongside him as The Authority's "chosen one" during the mid-2010s, expect The Drip God's role to expand.

The world saw how engaging a performer he can be earlier this year when he played mind games with Roman Reigns entering Royal Rumble and was the one guy who frustrated him to the extent that he lost his cool and got disqualified. He is a main event competitor in a midcard spot, biding his time for his next headlining program.

That should come under Triple H and will be welcomed with open arms by fans clamoring for the opportunity to cheer him. The singing along to his theme song and appreciation of the effort he puts into every match, including his three Match of the Year candidates against Cody Rhodes earlier this year, prove it.

Do not be surprised if, by this time next year, Rollins has reignited his feud with Reigns and gives it the appropriate conclusion after it was inexplicably dropped back in January.
5 of 10
Triple H has already figured out what Vince McMahon apparently did not when it comes to Ronda Rousey: fans do not want a one-dimensional, smiling and talking babyface. They want a no-nonsense badass who wipes out anyone in her path.

Rousey has spent the last three weeks bouncing back from six months of subpar booking and laughably bad promos by raising hell, wiping out security guards and defying Adam Pearce's suspension.

The result? Red-hot crowds for Rousey that, just two months ago, were in danger of turning against the uninteresting former UFC champion.

The former SmackDown Women's champion has yet to target the woman who controversially defeated her at SummerSlam, Liv Morgan, but that does not matter. Instead of programming her exclusively against Morgan, Triple H has booked Rousey versus the authority in WWE, knowing full well that is a timeless story that always resonates with fans.

The UFC Hall of Famer has benefited exponentially, appearing to be the world-beater she was always supposed to be. No longer is she the watered down babyface who talks too much and was forced into the sports-entertainment format rather than being allowed to be herself.

The promos still need work but Rousey has the fans in her corner and if the creative team can continue to build momentum for her, there is no reason to believe The Baddest Woman on the Planet will be a key figure in WWE in 2023 and one of the major stars it builds around.
6 of 10
Make no mistake about it: Triple H did not make an emphatic statement by bringing Karrion Kross and Scarlett back to WWE for them not to be top 10 Superstars a year from now.

The former two-time NXT champion has already made his presence felt, interjecting himself in the Undisputed WWE Universal Championship feud between Drew McIntyre and Roman Reigns and making it abundantly clear that the old regime was wrong for making them their chosen ones over him.

Kross has the look and the in-ring explosiveness to be a main event performer for the foreseeable future and with Scarlett, the presentation to be a central figure in The Game's creative efforts.

And he will be.

Do not be surprised if Kross is the world champion by the time August of 2023 rolls around. Triple H has exhibited the desire to push him to that level, based on his run in NXT, and with Roman Reigns not working a full-time schedule for WWE anymore, he can be the lead heel on Friday nights.

No longer hampered by gladiator helmets and skirts, Kross has the rare second opportunity to make a first impression.

He will and both he and Scarlett will be bigger stars than Vince McMahon could have imagined because of it.
7 of 10
Drew McIntyre will erase the disappointment of never appearing in front of a live audience as WWE champion at some point in the next year.

The Scottish Warrior has re-emerged from midcard feuds with Happy Corbin and Sheamus to establish himself as the top babyface on SmackDown and a star around whom Triple H and WWE Creative build shows around in the absence of Roman Reigns.

McIntyre will challenge The Tribal Chief for the Undisputed WWE Universal Championship at Clash at the Castle and even if he does not dethrone Reigns in Cardiff, Wales, he will capture at least one of the two titles held by The Head of the Table by this time next year.

He has put in the work, is perpetually over and can be that working champion who appears at all of the house shows and makes TV tapings every week. He is a great spokesman for the company and has just enough edge to keep the audience invested.

Now is his time and the new Head of Creative is likely to recognize that.

If not now, then definitely by the time August of 2023 rolls around and WWE is, hopefully, preparing for another European premium live event.
8 of 10
Becky Lynch turned babyface following her loss to Bianca Belair at SummerSlam and appeared to be returning to her "The Man" persona before the unfortunate news of a separated shoulder and time off put a pause on things.

When Lynch does return, with all of the attitude and energy of the character that led her to the top of the industry in 2018, she will catapult past all of her peers in the women's division and regain her spot as one the most popular stars in all of WWE.

She will certainly have the heels to work with, too.

Bayley, Dakota Kai and Iyo Sky will definitely be on the docket as she avenges a beatdown that wrote her off the show. Then there is the much-discussed match with Ronda Rousey, with whom Lynch feuded extensively entering WrestleMania 35 before that match was turned into a Triple Threat featuring Charlotte Flair.

That match, more so than just about any men's offering the company could present, screams "dream match" and could easily headline one of the two nights of WrestleMania 39 in Los Angeles.

Whatever awaits her creatively, Lynch will be back at the top of her profession, using her quick wit and sharp words to insult her rivals and win over the WWE fans in the process.
9 of 10
Roman Reigns is, and has been, the top guy in WWE for years. Since adopting the Tribal Chief persona, undergoing a heel turn and acquiring Paul Heyman as his special counsel, he has become the biggest star in the industry and the top draw that so many in the company hoped he would develop into when he first broke out on his own in 2014.

That is unlikely to change, with a potential WrestleMania main event against The Rock in Los Angeles' SoFi Stadium confirming his status as the biggest star of his generation.

His part-time schedule and absence from episodes of television will be felt greater over the next year, especially as Triple H looks to create stars and put them in a position to excel. The company will be more comfortable with the idea of taking the title off of him and putting it on someone who can regularly appear and work premium live events every month rather than popping up for the biggest, most prestigious shows.

None of that is meant as a knock against Reigns. His greatness is undeniable and he has absolutely earned a reduced schedule at this point in his career. Over the next year, though, as his appearances on television become less consistent, he will be eclipsed on this countdown of WWE's top 10 stars.
10 of 10
Cody Rhodes returned to WWE at WrestleMania 38 and was greeted with a heroes welcome, embraced by fans excited to see the former EVP of All Elite Wrestling back with the company that introduced him to audiences way back in 2007.

The American Nightmare wasted little time establishing himself not only as the top babyface in the company but as the guy who would have enough backing, both from management and the fans, to potentially dethrone Roman Reigns as the top dog in WWE.

Then he proceeded to have three straight Match of the Year candidates against Seth Rollins, the last coming inside Hell in a Cell with a torn pec that turned progressively, and sickeningly, purple as the match went on.

The injury, it turns out, may have been a blessing in disguise, as strange as that sounds.

Rhodes was not around long enough to become stale or overexposed. He left due to injury at the height of his popularity and will make his second hero's return in as many years by the time the Royal Rumble rolls around in January.

He will probably win the namesake match and, if The Rock vs. Reigns does not manifest itself, expect the grandson of a plumber to be the man that knocks The Tribal Chief off his throne and reigns over WWE as its top star.

With the fans behind him, and management's investment in him, his position atop this list feels like a no-brainer, regardless of who is booking.