3 Instant Reactions to Derwin James Jr.'s Record-breaking Chargers Contract Extension | News, Scores, Highlights, Stats, and Rumors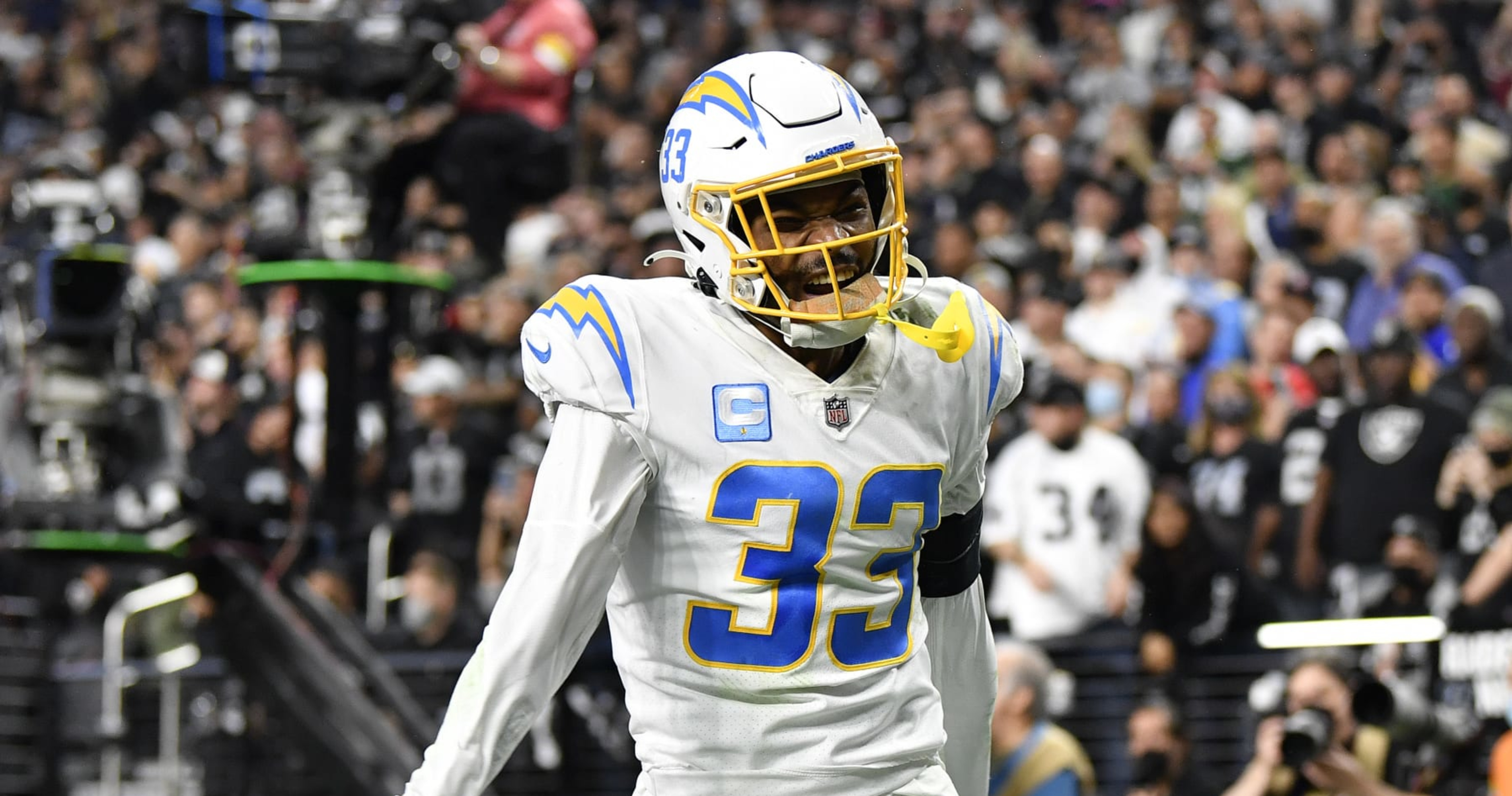 Derwin James (Chris Unger/Getty Images)
Derwin James Jr. became the highest-paid
safety in NFL history by agreeing to a four-year, $76.4 million
contract extension with the Los Angeles Chargers on Wednesday.
ESPN's Adam Schefter reported the financial
details of the agreement. Ian Rapoport of the NFL Network noted the
deal includes $42 million in guaranteed money, which is also a new record for the position.
Here's a look at some instant reactions
to the lucrative extension:
---
Chargers Eliminate "Hold-In" Concerns
James was part of an emerging trend
this offseason of players opting to "hold in"—showing up for
training camp but not taking part in practices while
waiting for a new contract.
While missing some camp sessions and a
preseason game he may not have played in wasn't a big deal,
concerns were beginning to mount about whether the sides would be
able to finalize an extension before the regular season.
Now those worries can fade away and the
Chargers will have one of their foundational pieces on the field when
they battle the Las Vegas Raiders in Week 1 on Sept. 11.
James is coming off a 2021 campaign
where he registered 118 total tackles, five passes defended, two
interceptions and two sacks across 15 appearances. He received a
solid 78.1 overall grade from Pro Football Focus.
L.A. is a popular pick to become this
year's breakout team after narrowly missing the playoffs with a 9-8
record last season.
A core that includes James, quarterback
Justin Herbert, running back Austin Ekeler, wide receiver Keenan
Allen, cornerback J.C. Jackson and edge-rushers Joey Bosa and Khalil
Mack gives the roster several championship-level building blocks.
---
James' Injury History Represents Risk
James has established himself as one of
the NFL's top safeties when healthy, earning a pair of Pro Bowl
appearances and two First Team All-Pro selections, but injuries have
been an issue.
The 26-year-old Florida State product
was limited to five games in 2019 with a foot injury and missed the
entire 2020 season with a torn meniscus.
He returned to play 15 of the Bolts' 17
games in 2021, and he showed no sign the injuries from the previous
years would hamper his play moving forward.
The bottom line remains James must stay healthy if the Chargers
are going to receive maximum value from the record-setting contract, though.
Before camp started in July, he told
ESPN's Lindsey Thiry he was ready to roll for 2022.
"This is the best I've felt in the
last four years," James said. "And I can't wait to go."
That's great news for the Chargers'
defense.
---
Bengals' Jessie Bates III, Bills' Jordan Poyer Up Next
Now that James has reset the safety
market, the focus shifts to other high-profile players are the
position seeking new deals.
Bates has taken the more traditional
route of holding out while trying to work out an extension. The
Bengals placed the franchise tag on him in March.
Poyer, who's entering the final year of his contract, arrived at Bills camp on time
after skipping voluntary offseason practices, but he's since been
sidelined by an elbow injury.
"I want to be here," Poyer told
reporters in July. "That's how I feel—I want to be here. I'm
going to continue to be a leader for this team and continue to do
what I can help this team win football games."
Despite their differing approaches to
the situation, both Bates and Poyer should benefit from James' new
deal. It could also help bridge the gap between the sides by
providing the groundwork for what an extension may look like.
How long James' tenure as the
highest-paid safety will last is a mystery, but getting a deal done
with a couple of weeks for him to get back up to full speed before the
season gets underway is a victory for all parties involved.