Cowboys' Ezekiel Elliott Thinks He'll Play Long Enough to Reach 10,000 Rushing Yards | News, Scores, Highlights, Stats, and Rumors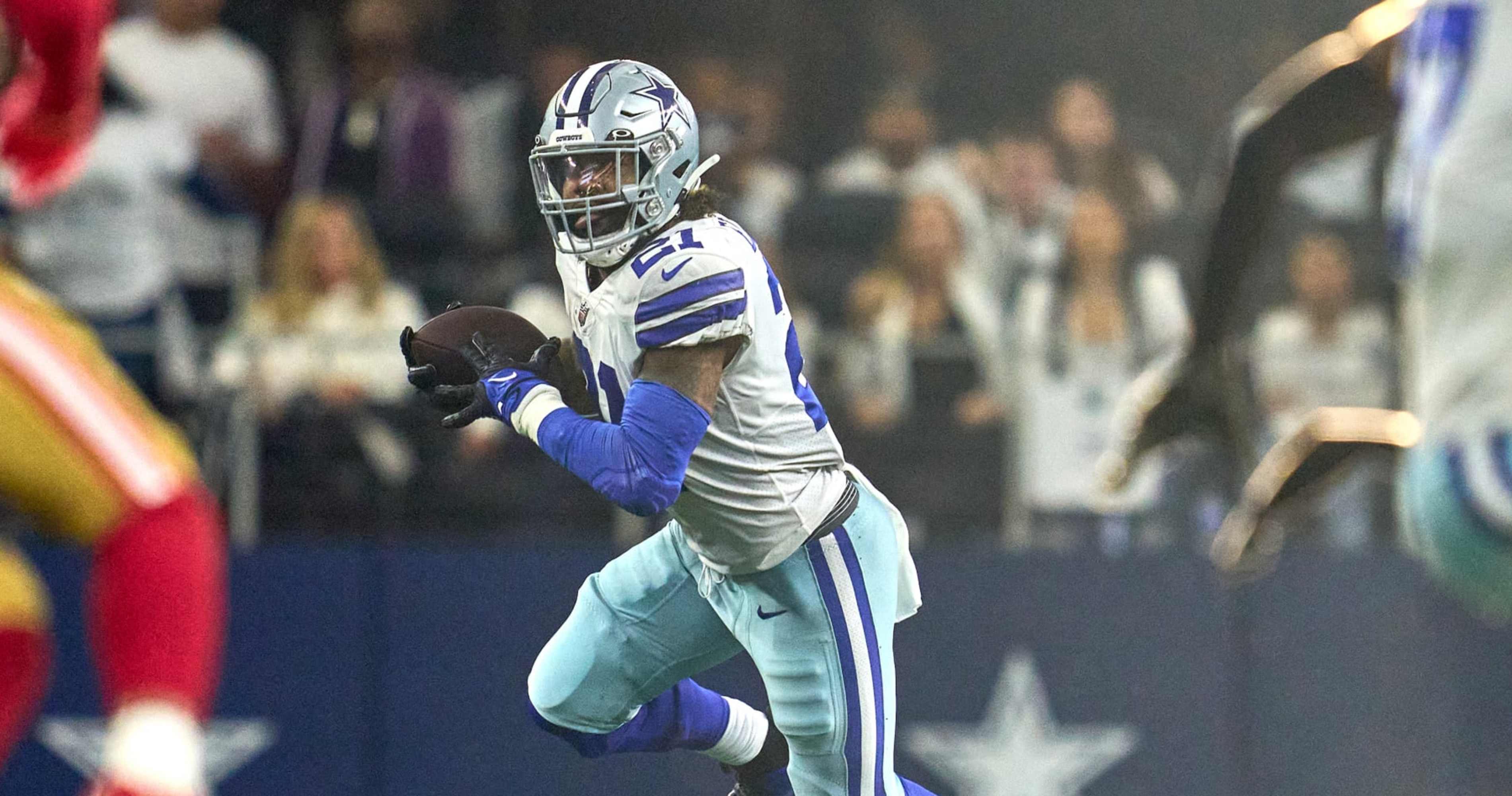 Robin Alam/Icon Sportswire via Getty Images
After receiving a vote of confidence from Jerry Jones earlier this week, Dallas Cowboys running back Ezekiel Elliott has laid out a plan for the rest of his career.
Speaking to reporters on Wednesday, Elliott said that his goal is to reach 10,000 rushing yards and help the Cowboys win a championship.
"Obviously that's a goal, winning a Super Bowl, getting a gold jacket. There's not many guys with gold jackets that didn't rush for 10,000 yards," he explained.
There have been some analysts calling for the Cowboys to use Tony Pollard as their feature back this season. The 25-year-old had a breakout 2021 with 1,056 yards from scrimmage and averaged 5.5 yards per carry on 130 rushing attempts.
Elliott was still a productive player, finishing with 1,002 rushing yards and 10 rushing touchdowns. He only averaged 4.2 yards per carry on 237 attempts.
Per ESPN's Bill Barnwell, Pollard's success rate per rushing attempt was more than six percentage points higher than Elliott's last year (46.9 percent to 40.5).
Pollard was also a more efficient receiver with 39 catches on 46 targets for 337 yards (8.6 yards per reception). Elliott had 47 receptions on 65 targets for 287 yards (6.1 yards per catch).
Appearing on NFL Network's Training Camp: Back Together Saturday on July 30 (h/t NFL.com's Kevin Patra), Jones acknowledged the Cowboys "gotta have" Pollard on the field but Elliott has "gotta be our feature, and he is our feature" back.
Elliott does have a strong chance of reaching his goal of 10,000 yards, especially if he has Jones' support. The three-time Pro Bowler has 7,386 rushing yards over his first six seasons. He has cracked 1,000 yards four times in his career and fallen just short of the mark in the other two seasons.
A total of 31 running backs in NFL history have surpassed 10,000 career rushing yards. Only 16 players in that group have been inducted into the Hall of Fame. (Frank Gore, Adrian Peterson, LeSean McCoy and Marshawn Lynch aren't yet eligible.)
The Cowboys have many roster questions to figure out if they want to be a viable Super Bowl contender in 2022. Amari Cooper and Cedrick Wilson Jr., who combined for 1,467 receiving yards and 14 touchdowns last year, are no longer with the team.
Randy Gregory, La'El Collins and Connor Williams also left as free agents during the offseason.
Dallas won the NFC East with a 12-5 record in 2021 but lost in the Wild Card Round to the San Francisco 49ers.