Amanda Nunes and the Real Winners and Losers from UFC 277 | News, Scores, Highlights, Stats, and Rumors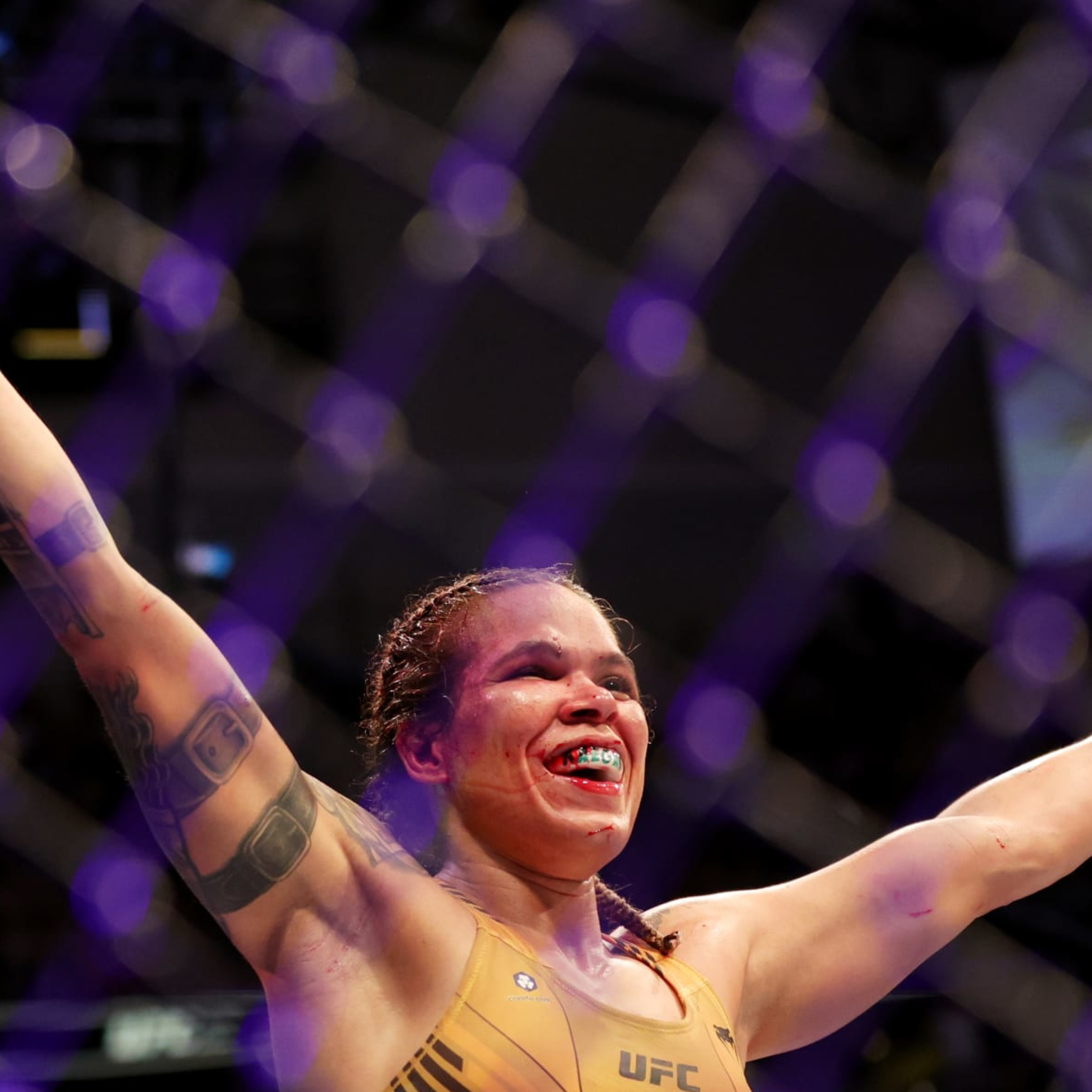 0 of 9
Josh Hedges/Zuffa LLC

Hey, haven't we met?

That was certainly the vibe between the principals in the top two fights on Saturday's UFC card at the American Airlines Center in Dallas, where the mixed martial arts giant produced its second pay-per-view event of the month.

UFC 277 was headlined by a rematch in the main event, where Julianna Pena risked the bantamweight title she'd won from Amanda Nunes in one of the sport's greatest upsets last December. In the co-main fight, flyweights Brandon Moreno and Kai Kara-France ran back a 2019 bout that Moreno had won by close decision.

The flyweight bout was for the promotion's so-called interim title belt at 125 pounds, while the division's full-fledged champion, Deiveson Figueiredo, recovers from a myriad of injuries and decides whether to stay at the weight full time or move up to bantamweight.

Figueiredo and Moreno have fought three times, with each man going 1-1-1.

The Dallas show included 13 bouts from bottom to top, and the B/R combat sports team was in position for the duration to compile a definitive list of the event's winners and losers.

Scroll through to see what we came up with, and feel free to drop a thought or two of your own in the comments.
1 of 9
Carmen Mandato/Getty Images

It was why people who love fighting love fighting.

Seven months after their paradigm-shifting two-rounder in Las Vegas, Nunes and Pena engaged in 25 minutes of comprehensively violent competition that left both women swollen and bloody and allowed the consensus GOAT to regain her dual-championship status.

"We are here making history again," Nunes said. "Double champ again. Let's go."

Nunes earned a shutout unanimous decision on all three official scorecards, winning by margins of 50-45, 50-44 and 50-43 and becoming just the third woman to regain a title.

But it wasn't easy.

Nunes seemed in full control of the bout's early portion, fighting from a southpaw stance and continually catching Pena with right hooks as she pressed forward. She became the first woman to score at least three knockdowns in a UFC fight, but Pena rose every time and continued to be aggressive into the fight's back half.

The action went primarily to the mat in the final two rounds as Nunes went with multiple takedown attempts and opened cuts on Pena's hairline with thudding ground-strike elbows.

Still, the now-ex-champ remained dangerous and continued going for submission attempts from her back, including an armbar attempt in the fourth in which she had Nunes' left arm locked but could not hold the position long enough to draw a surrender.

The script remained similar in the fifth as the finish line drew nearer and Nunes actually ended the fight on her feet while Pena stayed prone, and the Brazilian punctuated her win with an impromptu salsa dance in the seconds before the final horn.

In the aftermath, she praised the decision to adjust her corner team to again include veteran trainer Roger Krahl, who'd been with her for her initial title-fight wins over Ronda Rousey and Miesha Tate.

"The best thing I did was make my gym happy. I feel like I can grow even more," she said. "I'm really evolving even more. This is the best day ever in my life."

She deflected questions about her competitive future in the aftermath, instead suggesting a long hiatus may be in order before she returns.

"I'm going home to Brazil to see my family," she said. "Let the lioness rest a little bit, and we'll come back as soon as possible."
2 of 9
Josh Hedges/Zuffa LLC

It looked like an old-school confrontation was brewing.

As Moreno was celebrating a sudden third-round finish of Kara-France and smiling broadly as the interim title belt was strapped around his waist, Figueiredo stood up at cage-side, held his full-fledged belt aloft and strode toward the Octagon stairs.

And as the two men stood face to face in the center of the cage, a war of words or worse seemed imminent.

But something surprising happened on the way to the rumble.

Rather than brashly challenging his interloping nemesis to a fourth battle, Moreno instead suggested he'd set an example for his family and simply express his desire for another rematch.

And rather than pushing the issue with aggression, Figueiredo shook hands with his three-time foe and suggested they could indeed get together with the belts on the line.

"Tonight is his night, and he is the champion tonight," Figueiredo said.

Moreno and Kara-France had battled evenly for better than two-and-a-half rounds before Moreno flicked a jab and then landed a roundhouse left kick to Kara-France's right side. It landed solidly and immediately dropped him to the floor, where Moreno pounced and launched 17 straight strike attempts before referee Herb Dean pulled the two apart.

Figueiredo said a fourth fight should occur in his home country of Brazil, a proposition that Moreno immediately accepted as the two men raised each other's arms.

"OK, let's go," he said. "I want to fight you in December."
3 of 9
Josh Hedges/Zuffa LLC

The night's largest crowd pop wasn't a positive one.

Fans in Dallas loudly expressed their displeasure with the result when the main-card heavyweight duel between Texas resident Derrick Lewis and Russian export Sergei Pavlovich was stopped in the visitor's favor after just 55 seconds.

Pavlovich was ranked 11th compared to Lewis' fifth to start the fight, but the former quickly asserted control when he landed a short right hook on the inside as Lewis pressed forward aggressively.

The American was clearly hurt and wobbled backward as Pavlovich followed up with many more shots, some landing and some not. He did connect on another right hand as the barrage continued and dropped Lewis to his knees.

A few quick hammer-fist strikes followed and prompted a rescue from referee Dan Miragliotta just as Lewis tried to regain his feet.

Lewis immediately protested the stoppage, and the crowd backed him. The din only grew louder during Joe Rogan's subsequent interview when he suggested to Pavlovich that he'd thought it was stopped prematurely.

Pavlovich, unsurprisingly, disagreed.

"I was ready to punch him for five rounds or three rounds, it didn't matter to me," he said. "I did my job. I'm very happy with my performance."
4 of 9
Josh Hedges/Zuffa LLC

Alexandre Pantoja was in the mood to make a statement.

The Brazilian was the world's fourth-ranked flyweight as he arrived to the building on Saturday night and had told anyone who'd listen all week that he was deserving of a title shot.

He was only in the cage for 91 seconds, but it was a statement well made.

Pantoja immediately attacked sixth-ranked opponent Alex Perez with a flurry of punches, adeptly tripped him to the mat and quickly seized his back to lock in what became the decisive rear-naked choke that prompted Perez's tap-out to referee Jacob Montalvo.

Pantoja never got his left arm under Perez's chin and onto his throat, but the force with which he squeezed Perez's jaw and the torque with which he turned his neck was too much to endure once he was able to cinch the hold with his right hand.

It was his 10th first-round finish and gave him the fourth-most wins in UFC flyweight history and the second-most finishes in the weight class as well.

It was Perez's first fight in nearly two years since a title loss to then-champ Figueiredo in 2020. He'd had several fights scrubbed in the meantime due to weight problems and other issues.

"I'm ready for the title," he said. "I'm ready to do it with (Moreno or Kara France).

"I'm the champion. Right here."
5 of 9
Carmen Mandato/Getty Images

It's been a tough run for the UFC medical department.

After two straight Fight Night main events were cut short by abrupt injuries in non-submission situations, the opening bout on Saturday's pay-per-view show was also cut short thanks to an apparent broken left ankle sustained by fifth-ranked light heavyweight Anthony Smith.

The former title challenger limped back to his corner after the first round with Magomed Ankalaev citing a problem in the ankle, then appeared to mouth "my ankle is broken" toward the broadcast table after Montalvo waved things off at 3:09 of the second.

It was difficult to tell whether Smith suffered the injury by landing or receiving a kick, but he was rendered largely immobile to begin the second round and immediately attempted to pull Ankalaev to the ground. The Dagestani didn't take the bait, however, and instead began battering his foe with ground shots that left Smith covering with no offensive reply.

A sustained barrage with Smith on his knees ultimately prompted the intervention.

Smith was carried down an aisle upon leaving the cage and Jon Anik said on the broadcast that he was headed to a local hospital. Ankalaev, who arrived as the No. 4 contender at 205 pounds, said he hadn't been aware that Smith was injured and instead called for a title shot.

He's won nine straight since dropping his UFC debut, the second-longest streak at light heavyweight behind Jon Jones' 13.

"I didn't know," he said. "Who do you think broke it? He was hitting me. This fight was very important to me, but how many more fights do I have to win before I fight for a championship?"
6 of 9
Chris Unger/Zuffa LLC

Rogan was his usual self on Saturday's broadcast.

The UFC's high-profile veteran was enthusiastic in his reactions, insightful in his analysis and respectful in his post-fight interviews.

But when it came to some of the show's officiating, he wasn't so happy.

Quick-acting referees got under Rogan's skin with decisions in a pair of fights to separate combatants because of a perceived lack of action or activity.

Rafa Garcia was atop Drakkar Klose in the center of the mat during Round 2 of their lightweight fight when Montalvo stood them up because Garcia hadn't been effective in moving Klose into dangerous positions, though he was throwing and landing strikes.

Then in the subsequent fight, heavyweight Hamdy Abdelwahab had his arms wrapped around Don'Tale Mayes while pushing him into the fence from a standing position. However, he was pulled off by referee Kerry Hatley to return to a neutral position for similar reasons.

Hatley intervened again in the third round when Abdelwahab took Mayes to the ground and had briefly stagnated there, prompting boos from the crowd.

"It really is interesting when you watch some referees respond to boos," Rogan said.

"Clearly, they start moving when they hear the boos. I feel like if a guy can keep a guy down for five minutes and give him noogies, let it go. Learn to get up. It's particularly egregious to me when they're on the ground, and one guy's on top, and they let the other guy get up. He's earned that position, and you've taken it away from him."

Abdelwahab wound up winning a split decision in which all three judges scored the fight 29-28, though one gave the final round to Mayes even though he'd been taken down and punished for much of the session.

"That guy needs a talking to," Rogan said. "Someone needs to check to see who he bet on."
7 of 9
Carmen Mandato/Getty Images

Michael Morales accomplished the objective.

He arrived Saturday night as an unbeaten commodity and left it the same way, but it was by no means an easy road in dealing with UFC newcomer Adam Fugitt.

Indeed, Morales was taken to the mat in the first round and clipped with several one-off strikes in the second but endured and eventually landed the sorts of powerful shots that led to a TKO stoppage 69 seconds into the final session.

"I always want the hardest fighters," he said. "I didn't have the longest time to analyze this fight, but I was ready to fight anyway."

A veteran of several years with smaller promotions, Fugitt drew into the match last week and presented himself well with a takedown midway through the first. He was unable to secure full control, however, and saw Morales back on his feet in less than two minutes.

From there, the 23-year-old was the faster and sharper fighter, and he proved it decisively in the third, landing a quick and precise one-two combination as Fugitt pressed forward.

The stricken fighter was sent to the floor and never fully recovered before Morales landed several ground strikes before another crunching right that drew an intervention from referee Herb Dean.

It was Morales' 14th straight win as a pro, his 11th by KO/TKO and his second straight by that method in the UFC after he'd debuted with a first-round stop of Trevin Giles in January after appearing on Dana White's Contender Series last year.

A couple of fights later on the preliminary card, Egyptian-born heavyweight Abdelwahab also stayed unbeaten with a split decision over Mayes. He and Morales were the only two unbeaten fighters on the entire 13-bout show.

"[Morales is] an interesting guy to watch. No question," analyst Daniel Cormier said on the ESPN broadcast. "He's got a tremendous future, and it's hard to believe he's only 23."
8 of 9
Carmen Mandato/Getty Images

Blood Diamond certainly keeps the right company.

The Zimbabwe-born welterweight has been based in New Zealand since moving from his home country as a child and began making inroads in mixed martial arts after happening upon the City Kickboxing facility in Auckland.

He became a training partner and friend of UFC middleweight champ Israel Adesanya and shares high-profile gym space with other octagonal elites like featherweight champ Alexander Volkanovski and aforementioned flyweight title contender Kara-France.

But it hasn't translated just yet.

Diamond made his second straight early prelim appearance on a pay-per-view show and was beaten for the second straight time, dropping a narrow but unanimous decision to American grappler Orion Cosce in Saturday's opener.

All three judges scored it 29-28 for Cosce, each giving him a decisive third round in which he quickly got Diamond to the mat and chased submission attempts while running his overall control time for the match to nearly nine-and-a-half minutes.

Diamond had been submitted by choke in his UFC debut beneath Adesanya's rematch with Robert Whittaker last February in Houston. He'd been unbeaten in his initial three bouts, winning by TKO, submission and decision in three separate promotions.
9 of 9
Josh Hedges/Zuffa LLC

Main Card

Amanda Nunes def. Julianna Pena by unanimous decision (50-43, 50-44, 50-45)

Brandon Moreno def. Kai Kara-France by TKO (kick), 4:34, Round 3

Sergei Pavlovich def. Derrick Lewis by TKO (punches), 0:55, Round 1

Alexandre Pantoja def. Alex Perez by submission (rear-naked choke), 1:31, Round 1

Magomed Ankalaev def. Anthony Smith by TKO (punches), 3:09, Round 2

---

Preliminary Card

Alex Morono def. Matthew Semelsberger by unanimous decision (29-28, 29-28, 30-27)

Drew Dober def. Rafael Alves by KO (punch), 1:30, Round 3

Hamdy Abdelwahab def. Don'Tale Mayes by split decision (29-28, 28-29, 29-28)

Drakkar Klose def. Rafa Garcia by unanimous decision (29-28, 29-28, 29-28)

---

Early Preliminary Card

Michael Morales def. Adam Fugitt by TKO (punches), 1:09, Round 3

Joselyne Edwards def. Ji Yeon Kim by split decision (29-28, 28-29, 30-27)

Nicolae Negumereanu def. Ihor Potieria by TKO (knees), 3:33, Round 2

Orion Cosce def. Blood Diamond by unanimous decision (29-28, 29-28, 29-28)