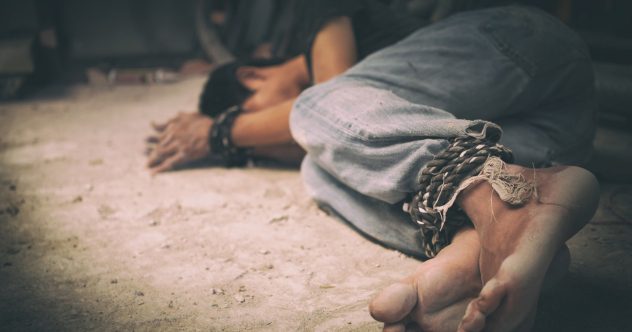 Human trafficking is a massive blight on humanity and has been happening in one form or another for thousands of years. In recent years, however, it has taken on a new and more insidious form. With the rise of the internet and globalization, human trafficking has become easier to facilitate and harder to detect.
But that doesn't stop people around the world from trying to end it—and you can too. Here are common signs you can see in victims:
Looking malnourished
Signs of physical abuse or stories with weird stories
Avoids law enforcement, eye contact, and talking
Short scripted responses
No personal ID
No personal belongings
While the problem of human trafficking may seem insurmountable, there are people working tirelessly to combat it. Here are 10 celebrities who are fighting human trafficking.
Related: 10 Horrifying Examples Of Modern-Day Child Slavery
10

Ricky Martin Speaking in Cambodia

When Ricky Martin isn't "Livin' La Vida Loca," he's pretty serious about this humanitarian cause. A musician and actor, Martin has been a vocal opponent of human trafficking and has worked with various organizations to raise awareness about the issue.

He spoke at the Vienna Forum in Cambodia, an area with high numbers of trafficking victims, in 2008. He pleaded with the nation, saying, "Human trafficking is a violation of human rights; it has no place in our world, and I beg you to act now."

In 2009, he testified before the United States Congress about the need for tougher laws to combat trafficking. He has also participated in several public service announcements calling for an end to this form of slavery.
9

Angelina Jolie Fighting Back for Women

Oscar-winning actress Angelina Jolie has been a strong advocate for victims of human trafficking. She has worked with the United Nations High Commissioner for Refugees (UNHCR) and is a Goodwill Ambassador for that organization.

In 2012, she helped launch the "End Sexual Violence in Conflict" campaign to bring attention to the use of rape as a weapon of war. In 2014, Jolie published an article with NATO Secretary General Stoltenberg, writing, "All violence against women betrays the fundamental promise in the U.N. Charter of equal rights and dignity for women."

More specifically, Jolie has been known to call out people in positions of power for abusing women and children, reminding the world of their charge to protect—not add to the violence.
8

Ashton Kutcher Creating Software to Fight Human Trafficking

Actor Ashton Kutcher has spent a long time proving to the world that he's capable of more than just standing behind the camera. Between an IQ of 160 and a degree in Biochemical Engineering, the That '70s Show star has a lot to offer to humanitarian projects—especially in the stand against human slavery.

Kutcher is the co-founder of Thorn, an organization that works to combat the sexual exploitation of children. In 2012, he testified before the United States Senate Foreign Relations Committee about the need for greater action to stop the demand for child sex slaves.

Kutcher has also produced and narrated a documentary about child sex trafficking called The Real Menace.

He also spoke in 2017 to the committee about a tool he helped create called Spotlight. He said, "In six months, with 25% of our users reporting, we've identified over 6,000 trafficking victims, 2,000 of which are minors…and we're reducing the investigation time by 60%." With numbers like that, hopefully, they listened.
7

Carrie Underwood's Annual End It Movement Posts

Singer Carrie Underwood has been involved with various organizations that work to fight human trafficking. Together with her husband, Mike Fisher, the couple actively tries to bring awareness to this worldwide problem. They can be seen sporting red X's on their hands to signify their support.

In 2018, Underwood openly posted on Instagram that she supported the #enditmovement. She wrote, "Together, we're in it to end it! Help us shine a light on modern day slavery."
6

David Beckham Shines a Light on Children in Need

Former professional soccer player David Beckham has helped raise awareness about human trafficking through his work with UNICEF. As an ambassador, he's committed to making the world a safer place for kids everywhere.

In 2010, he recorded a public service announcement for that organization that called for an end to the exploitation of children. He has also visited various countries to see first-hand the effects of trafficking and meet with victims.

In an article he wrote for Newsweek magazine, Beckam wrote, "Every five minutes, somewhere in the world, a child dies from violence. Millions more are in danger of physical, emotional, and sexual abuse that could destroy their childhoods forever. Violence is often hidden from view, making children invisible and easy to remain unnoticed."
5

Julia Ormond Roots Out Slavery in Supply Chains

Actress Julia Ormond is the founder of the Alliance to Stop Slavery & End Trafficking (ASSET), an organization that works to end modern slavery. She has also served as an ambassador for the United Nations Office on Drugs and Crime (UNODC) and has spoken out against human trafficking on several occasions.

Ormond formed ASSET in 2007 after seeing the effects of abuse on children around the world. She states, "It was clear that all of us needed to know that we were purchasing products from supply chains that enable slavery."

Just two years later, her company began taking on those supply chains, helping to bring about regulations that made them release information about forced labor. In 2012, Ormond was presented with the Freedom Award by President Barack Obama for her work on this issue.
4

Emma Thompson as the Face of Anti-Trafficking Ads

Actress Emma Thompson is a vocal opponent of human trafficking and has worked with various organizations to raise awareness about the issue. In 2008, she shared a story with Newsweek about how she met a young girl who had been enslaved in a massage parlor near where Thompson had grown up—one she passed every day after school.

The incident made Thompson realize just how close to home human trafficking was. Reflecting on the experience, she wrote, "It exists on our own doorsteps, and our lack of action shames us all." She is dedicated to making people who live in first-world countries understand that this isn't a distant problem—it's happening in their own backyards.
3

Carla Stephens Goes from "Funder" to Anti-Slavery Founder

Carla Stephens is president of her local PTA. So why does that make her famous? Because of the docu-series, Mother Funder, that covers her local PTA in Georgia. She's risen to fame with her reality-TV-esque role, and she's doing some amazing things with that recognition. Her most impressive role is off-screen as an advocate for human trafficking victims.

Stephens is the founder of The A21 Campaign, an organization that works to fight trafficking and modern-day slavery. She has also served as the Global Ambassador for the United Nations Office on Drugs and Crime (UNODC).

She partners with other queens of reality TV, like Bravo's Dr. Jackie Walters and Amber Bryant. In an article she wrote for The Safe House Project, Stephens said, "I am compelled to fight for those that are victimized, the vulnerable, and those that are predisposed to being victimized."
2

Blake Lively Takes on Child Porn Predators

Everybody loves Blake Lively for her adorable #relationshipgoals with husband Ryan Reynolds. And how can we not mention her unforgettable performance in The Sisterhood of the Traveling Pants series. We didn't think it was possible to love her any more, but after learning about everything she's done in the fight against child pornography and human trafficking? You will.

She works closely with the Child Rescue Coalition and its CEO Carly Yoost. Part of their mission is to give law enforcement the tools they need to take down this horrific problem. As they've worked to save thousands of children already, Lively said, "If you proactively find these predators, you can save so many children."

Lively has been involved with various organizations that work to combat human trafficking. In 2010, she recorded a public service announcement for the Organization for Security and Co-operation in Europe (OSCE), which called for an end to the exploitation of women and girls. She has also made public appearances and given interviews where she has spoken out against trafficking.
10

Reese Witherspoon Pushes Back Against Sexual Assault and Domestic Violence

Academy Award-winning actress Reese Witherspoon deserves a special spot on this list. As a sexual assault survivor herself, she's been outspoken about her experiences as part of her journey to help protect and empower other women.

She said, "I have my own experiences that have come back to me very vividly, and I found it really hard to sleep, hard to think, hard to communicate." But the anxiety and trauma haven't stopped her from being a voice for those who don't have one.

Witherspoon has chosen shows that specifically call out these issues, like Little Fires Everywhere and The Morning Show, as a platform for change.

Not only is she fighting against human trafficking around the world, but she's fighting against domestic violence too. She works with an organization called Safe Horizons, which helps victims find their confidence again.