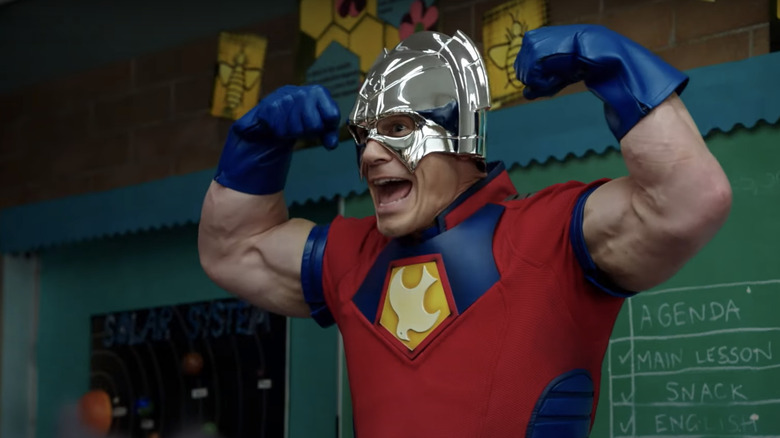 (The Morning Watch is a recurring feature that highlights a handful of noteworthy videos from around the web. They could be video essays, fan-made productions, featurettes, short films, hilarious sketches, or just anything that has to do with our favorite movies and TV shows.)
In this edition, join host Tiffany Smith in the second episode of "The Archive: Unboxed" to get a look at the costumes and props from everyone's favorite super himbo series, "Peacemaker." Plus, Dr. Cathleen Lewis, curator of International Space Programs and Spacesuits at the Smithsonian Institution's National Air and Space Museum, breaks down some of our favorite cinematic space suits. And finally, prolific performer John Turturro discusses some of his most iconic characters, leading to his recent portrayal of Carmine Falcone in "The Batman."
See The Entire Room Of Peacemaker Helmets
"The Archive: Unboxed" is a webseries from Warner Bros. where host Tiffany Smith meets the creatives behind some of the most iconic costumes and props featured in the studio's most memorable properties, including the archivists who help preserve these pieces of movie history. The latest features a discussion with "Peacemaker" costume designer Shay Cunliffe, who explains how the team got each look from the pages of the comic books to the small screen and what it was like designing a TV series over Zoom during quarantine. Smith later chats with archivist Matthew Truex, who gives us a first-hand look at the multiple helmets created by Lisa Soper and David Dowling, which Peacemaker utilizes throughout the series. What are they made of? How do they hold form without feeling like a cheap children's Halloween mask? Tune in and get all the details.
No One Knows More About Space Suits Than Dr. Cathleen Lewis
Usually when experts discuss the use of science in movies, we end up with someone like Neil deGrasse Tyson sucking all the fun out of the room to remind us the "Annabelle" doll would need 50kg counterweight to throw the mom across the room. In a new video from GQ, Smithsonian curator Dr. Cathleen Lewis breaks down some of our favorite pop culture space suits, but does so in a way that takes into consideration the technological limitations of the time period as well as what the suits were trying to accomplish. For instance, the "Star Trek" suits should be representative of a time in the future with materials that we currently do not have on earth, and the square shaped helmets are a great way to ensure the audience can see who is in each suit. Dr. Lewis knows a lot about the science of space travel, but she also clearly loves sci-fi cinema and marries them both for this fascinating video.
John Turturro On His Career From Do The Right Thing To The Batman
Finally, John Turturro's career is genuinely incredible, containing multitudes of talent that helped him win the Best Actor Award at the Cannes Film Festival for "Barton Fink" but also deliver the comedy required for Adam Sandler's "The Ridiculous 6." In a video for GQ, Turturro looks back at his most memorable roles, like Bernie "The Shamata Kid" Bernbaum in "Miller's Crossing," Jesus Quintana in "The Big Lebowski," Pete in "O Brother, Where Art Thou?" and his recent turn as Carmine Falcone in "The Batman." Turturro has enjoyed a fulfilling career playing a variety of characters, but hearing him discuss the real life influences that helped shape some of his most memorable roles adds an additional layer of brilliance to one of the industry's finest.
Read this next: Batman Movies Ranked From Worst To Best
The post The Morning Watch: Peacemaker Props Extravaganza, Reviewing Space Suits in Movies & More appeared first on /Film.