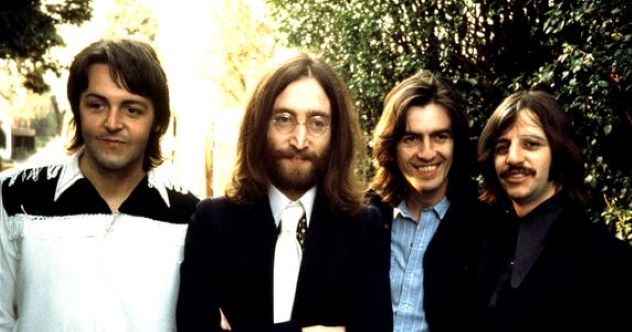 With the recent release of Get Back, Peter Jackson's thorough examination of the Beatles in a time of trouble, interest in the famed band has increased. More interesting than their work together was the music the quartet recorded individually in the 1970s. This list offers a tidy selection.
Related: Top 10 Bizarre Conspiracy Theories About Album Cover Art
10

McCartney (1970)

Although the breakup was painful for every member, it seems Paul McCartney took it the hardest and spent much of 1970 tending to his wounds by drinking—excessively. Indeed, it was only through the encouragement of his wife Linda that the bassist found the spontaneity needed to record his debut album: a lo-fi effort that saw the man record every instrument on his own. It's neither polished nor focused, but that's what adds to the charm of the effort, as he details the newfound happiness fatherhood has offered him. "The Lovely Linda" demonstrates the songwriter's devotion to his wife, while acoustic offerings "Every Night" and "Junk" highlight the little nothings that made up for the loss of the band.

In between the instrumentals and the dreamlike elegies stands "Maybe I'm Amazed," a piano ballad that seemingly continues the narrative of the Beatles' epics "Hey Jude" and "Let It Be." Channeling the disappointment of the breakup into something much grander and more adult, the song exhibits a man coming to grips with adulthood and all the trials that come with it. Since 1970, stalwarts Rod Stewart and Billy Joel have covered the number.[1]
9

Beaucoup of Blues (1970)

Drummer Ringo Starr was widely considered the least likely of the four to succeed as a solo artist, and Sentimental Journey—purportedly recorded to please his mother—did little to dispel the rumors. More happily, Starr released another album that year, one that was geared specifically for his distinctive voice. Having carved a niche for himself as a country singer, Starr flew over to Nashville to soak up the influences, curating an album that's reverent and truthful to the genre that had given him much pleasure as a child.

Under Pete Drake's watchful eye, Starr completed a fourteen-track L.P., although two of the tracks remained unheard until the nineties. The title track remains the album's most fondly remembered ditty. But there's more to the record, not least the achingly romantic "I Wouldn't Have You Any Other Way," while "Loser's Lounge" demonstrates one of the drummer's most nakedly vulnerable vocal performances. All in all, Starr proved himself an adept singer, proving the material suited his voice. And laced in the heart of the country genre, he found his voice, and then some.[2]
8

All Things Must Pass (1970)

Underestimated by his bandmates and manager and producer George Martin, George Harrison had nevertheless harnessed a hefty catalog of tunes he knew the Beatles would never get around to recording. Fittingly, his debut album turned out to be a triple record, although the third vinyl—complete with punchy, albeit protracted, guitar instrumentals—might prove too much of a good thing for casual listeners.

And yet the first two discs showcase a poet yearning for solitude, solace, and sincerity in the world he inhabits. "Wah Wah," written during the Get Back sessions, holds his most ferocious guitar arpeggio, which isn't to say that the rest is pleasant. "Awaiting on You All" cautions listeners to the evils of the Pope, and "Hear Me Lord" demonstrates a sinner unworthy of his God's absolution. And then there's the superlative title track, showcasing a maturity he would never have penciled, but for the many personal journeys he made to India in the '60s.

"I went to George's Friar Park," producer Phil Spector recalled, "and he said, 'I have a few ditties for you to hear.' It was endless! He had literally hundreds of songs, and each one was better than the rest. He had all this emotion built up when it was released to me."[3]
7

Plastic Ono Band (1970)

George Harrison wasn't the only Beatle bursting with unfulfilled ambition. John Lennon, brimming with anger since his problematic childhood, finally managed to commit many of his feelings to tape, much of it delving into the death of his mother ("Mother") or the failings of his education ("Well, Well, Well" and "Working Class Hero"). "I think it's realistic and it's true to me that has been developing over the years from 'In My Life,' 'I'm a Loser,' 'Help!,' 'Strawberry Fields,'" Lennon informed Rolling Stone. "They're all personal records."

Aiding him on this quest was Yoko Ono, the avant-garde artist who felt the only way to make art meaningful was to make it truthful. As if recognizing the ambition, Lennon chose not to hire another guitarist and played all the solos himself. But behind him stood Ringo Starr, the one former Beatle he could still rely on for support.[4]
6

Imagine (1971)

Having thrown much of his anger onto the previous listed record, Lennon followed it up with Imagine, his most popular album and the last he produced in England. Indeed, it's a very "English" sounding record, and even Nashville rockers "Crippled Inside" and "I Don't Wanna Be a Soldier" hold a parochial feel to them that could only have stemmed from watching the inclement weather fall outside his house.

There are highlights: "Oh Yoko!" exhibits his ecstasy at a triumphant marriage, and "Oh My Love" continues the metaphor. At the same time, "Jealous Guy" suggested that he was determined to finally make peace with his former songwriting partner. Paul McCartney recognized the symbolism, and the two gallantly agreed not to criticize each other as venomously as they had to that juncture.[5]
5

Ringo (1973)

It seems strange now, but Ringo Starr enjoyed greater chart success than his bandmates. "It Don't Come Easy" was a monster hit in 1973, as was "Back Off Boogaloo," a drum-heavy rock number that may have been influenced by Paul McCartney. And when it came to his relations with the other members of the Beatles, Starr could proudly state that each of them held him in high esteem.

So it came to pass that he asked his three erstwhile bandmates to contribute tracks to his latest record. McCartney came up with "Six O'Clock," a jaunty pop number that sounded like a Wings offshoot, while Lennon knocked off "I'm the Greatest," a roaring number, embellished by Harrison's fiery guitar. "I couldn't sing it," Lennon reflected, "but it was perfect for Ringo. He could say, I'm the greatest' and people wouldn't get upset. Whereas if I said 'I'm the greatest,' they'd all take it so seriously."(Link 6)

Best of all, the album boasted a Harrison-Starr co-write, "Photograph," fulfilling a long lost ambition that the pair had long discussed.[6]
4

Band on the Run (1973)

From great tragedy came tremendous music, and like McCartney says in the Peter Jackson series, his best work came when his back was against the wall. Compensating for two band members (Henry McCullough quit Wings, followed by drummer Denny Seiwell), McCartney ended up recording many of the instruments that made up the mosaic of sound on Band on the Run. This situation wasn't helped by the fact that he lost a tape of demos when he was mugged at knifepoint in Lagos, making the album that much harder to complete.

And yet the material was worth the hardship, culminating in a powerful selection of pop tracks. "Jet" remains a live favorite for the bassist, and he's been known to switch to guitar whenever he performs "Let Me Roll It." But for this writer, it's the barreling "1985" that remains the true standout, unveiling a piano lick that eclipses that of "Maybe I'm Amazed."

"It's a collection of songs, and the basic idea about the band on the run is a kind of prison escape," he surmised. "At the beginning of the album, the guy is stuck inside four walls and breaks out. There is a thread, but not a concept."[7]
3

Walls and Bridges (1974)

McCartney was enjoying a creative second wind, but Lennon was stalling. Recent efforts Sometime In New York City and Mind Games disappointed critics, while his separation from Yoko Ono suggested that his personal life was interrupting his writing process. But much like he did in 1970, he turned his personal misery into great art, and Walls and Bridges stands as the last of the essential John Lennon albums. He released a cover album and a collaboration with Ono before he was mercilessly shot down in 1980.

"Going Down On Love" held an aching middle coda ("Can somebody help me?"), and "Steel and Glass" offered moments of horrifying reflection. And then there was "Nobody Loves You (When You're Down and Out), a folk ballad that holds up just as well for its animated vocal as it does for the pummelling brass. In happier news, "#9 Dream" holds the Beatle reflecting on the many glories of his life—even offering girlfriend May Pang a vocal harmony—and Elton John pops around to lay down a supporting vocal for the jaunty "Whatever Gets You Thru the Night."[8]
2

Venus and Mars (1975)

Wings finally struck gold with their fourth album, and founder Paul McCartney was finally happy to let his fellow band members involve themselves in the songwriting process. Guitarist Denny Laine sings "Spirits of Ancient Egypt," and Jimmy McCulloch—the hotshot Scottish session player promoted to band member—contributes "Medicine Jar," an explosive number that details his penchant for heavy drinking and debauchery.

Linda McCartney holds up as a singer, especially on the shimmering "Love In Song," which holds one of her most intricate falsetto performances. And then there's "Rock Show," a pounding opener that pays tribute to Led Zeppelin, the band that had carried on the Beatles flame into the seventies. Other standouts are the blues tinted "Call Me Back Again" and 1920s doo-wop "You Gave Me The Answer."

The album, nominally considered Wings' best after Band On The Run, showed critics that McCartney could work with band members whose names weren't Lennon, Harrison, or Starr. Not that there was any chance that the Beatles would get back together, as Lennon announced his intention to retire in 1976.[9]
1

George Harrison (1979)

Following a traumatic tour in 1974, the Beatles lead guitarist spent much of the '70s secluded in Friars Park, his Victorian mansion. But optimistic as ever, he battled through the difficult days to record the bouncy George Harrison album, netting him his most positive notes since 1970.

Having become a father for the first time in 1978, Harrison was enjoying the process of witnessing the world from another person's perspective. The joy bursts through "Blow Away," a kaleidoscopic pop tune that holds one of Harrison's most impassioned guitar lines. Meanwhile, "Sweet Dark Lady" was written for Dhani's mother, Olivia, calling attention to her heritage and talents as a wife. Meanwhile, "Faster" paid tribute to the Formula 1 drivers Harrison both admired and befriended. Signaling a change in sound, George Harrison proved the blueprint for his 1980's output, a body of work where "Your Love Is Forever" and "Here Comes The Moon " could sit happily between.

"I think what happened between this album and the last album is that everything has been happening nice for me," he admitted. "My life is getting better all the time, and I'm happy, and I think that it's reflected in the music."[10]