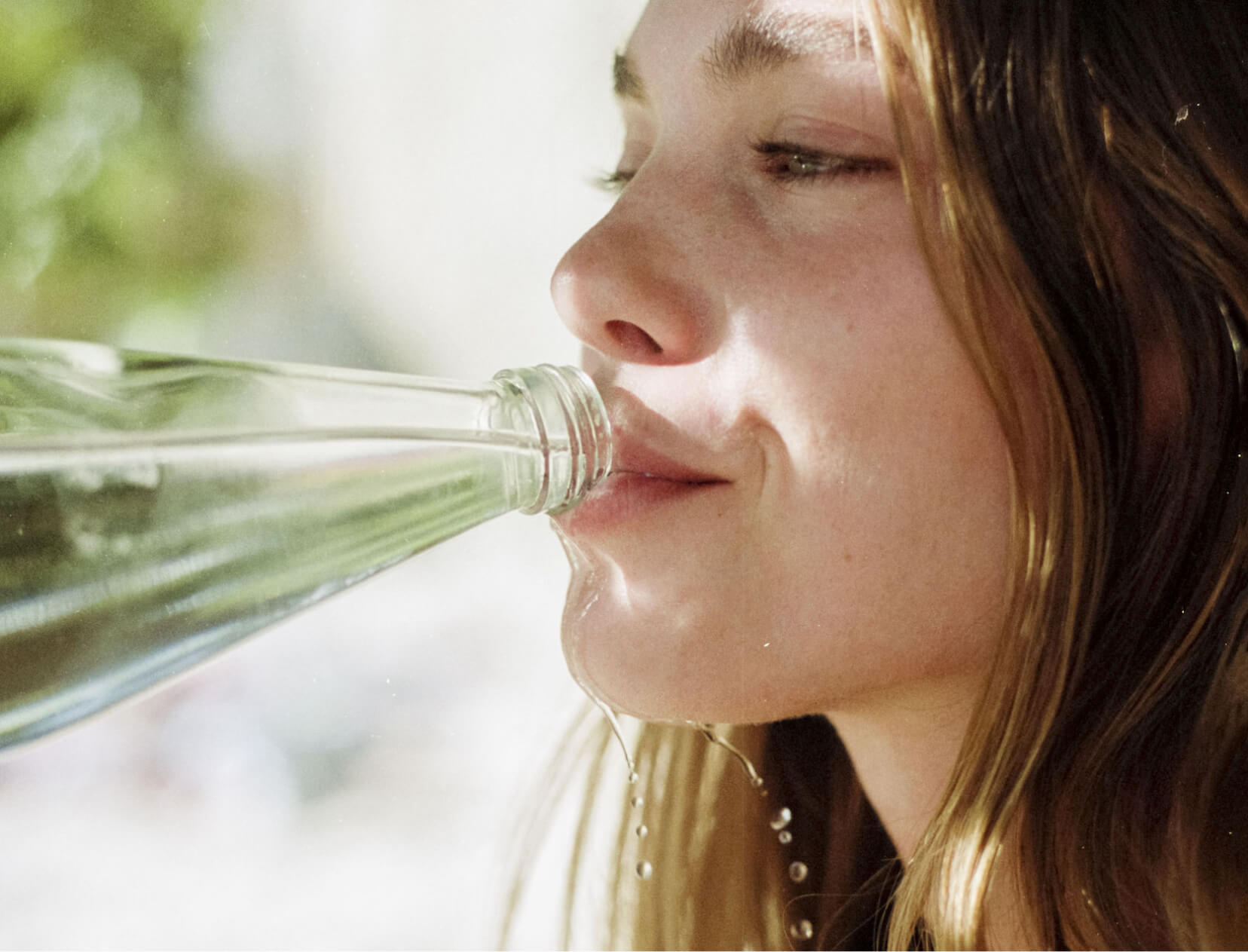 It's no secret that hydration is vital to our health. Water keeps our bodies going—literally, we cannot survive without it. The 60 percent of our body weight that is water makes up our tissues, acts as lubricant for our joints, creates saliva and gastric juices, regulates our temperature, and so much more. And since we're constantly losing water—through urinating and defecating, sweating, talking, and simply breathing—it needs to be replenished regularly, especially if you tend to sweat a lot normally or have a rigorous exercise routine.
When it comes to hydration, we often just think of water. And although water is key, hydration is a balance of water, electrolytes (e.g., sodium, potassium, magnesium, calcium, chloride, phosphorus), and carbohydrates. If one is imbalanced, the balance of the others can be affected, too. And since they all function to help our neurons and cells work properly and communicate with one another, keeping them balanced is important for the health of our bodies. "The best form of hydration is water mixed with electrolytes along with carbohydrates," says Ajmol Ali, PhD, a professor of exercise science at Massey University in Auckland.
So while you might think hitting hydration goals is just about chugging water, what you eat plays a significant role. We can get a balance of water, electrolytes, and carbohydrates through food and water: A balanced diet rich in vegetables and fruits and eight to twelve-ish cups (about two to three liters) of water each day generally provides the levels most people need. (Of course, the amount of water you need varies depending on how you're moving your body, what you're eating, your overall health, etc.)
Mixing electrolytes and carbohydrate sources directly into water is another way to help achieve that balance. We like the powdered mixes from Cure Hydration, which are made with electrolytes from organic coconut water powder and pink Himalayan salt, with natural carbohydrate sources—stevia and monk fruit extract. They taste great, which makes it even more enticing to stay hydrated. Go for the berry pomegranate if you like sweetness, the grapefruit if you prefer something a little more tart, and the matcha if you want a hit of caffeine at the same time. Just mix one pouch with eight to sixteen ounces of water (or a smoothie) and drink as needed.
Signs of Dehydration
If you're not getting enough water, there are some commons signs: dry or sticky mouth, thirst, sleepiness or tiredness, infrequent urination, muscle weakness, headache, and dizziness. Signs of severe dehydration include extreme thirst, irritability, confusion, no urination or sweating, shriveled skin, rapid heartbeat, fever, etc. But there are everyday ways to gauge your hydration prior to becoming dehydrated. "A crude measurement of hydration is to look at your urine color," Ali says. "Light yellow is ideal. Darker colors, like deep yellow or orange, can indicate that you need to drink more water."
Water Filters
Filtering water can remove contaminants and help improve the taste, making it even more likely you'll enjoy sipping it throughout the day—especially when you don't have to wait long for it to filter. With its coconut-shell carbon filter, Hydros's sixty-four-ounce pitcher filters 99 percent of sediment and 90 percent of chlorine in less than a minute. And its lid has a small container for infusing fruit, citrus, and herbs directly into the pitcher. Plus, it's sleek enough to set on the table for serving.
If you're looking for a family-friendly size, SOMA's pitcher holds eighty ounces of water. Its plant-based coconut-shell filter sifts out chlorine, mercury, zinc, and copper. And it has a lid designed to open automatically when you place it under running water. The pitcher is made from BPA-free plastic and features a white oak handle, so it looks chic on your countertop, too.
---
This article is for informational purposes only. It is not, nor is it intended to be, a substitute for professional medical advice, diagnosis, or treatment and should never be relied upon for specific medical advice. To the extent that this article features the advice of physicians or medical practitioners, the views expressed are the views of the cited expert and do not necessarily represent the views of goop.